Official spoiler, let's discover the movie details at Universal Studios Beijing
Hollywood Stars, Adventurers, Prehistoric Explorers, Wizards, Kung Fu Masters, Agents, Minions, are you ready to become these characters? Come to Universal Studios Beijing where popular blockbusters become the reality, venture into an immersive adventure now.
| | |
| --- | --- |
| Universal Studios Beijing themed lands or entertainments​ | Relevant movie series​ |
| Jurassic World Isla Nublar​ | Jurassic World movie series​ |
| Minion Land​ | Despicable Me and Minions movie series​ |
| The Wizarding World of Harry Potter™​ | Harry Potter™ movie series​ |
| Kung Fu Panda Land of Awesomeness​ | Kung Fu Panda movie series​ |
| Transformers Metrobase​ | Transformers movie series​ |
| WaterWorld​ | WaterWorld movie​ |
| Minion Land - SING on Tour​ | SING movie​ |
| Hollywood - Untrainable​ | How To Train Your Dragon movie series​ |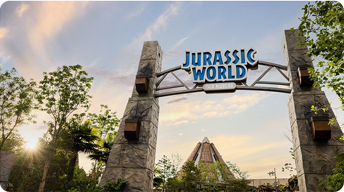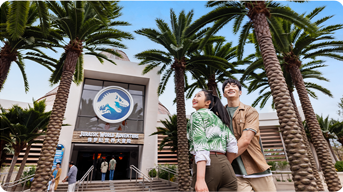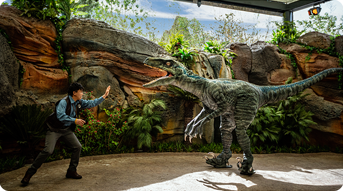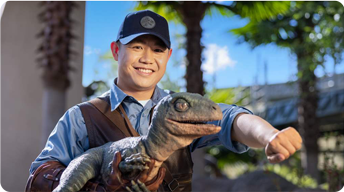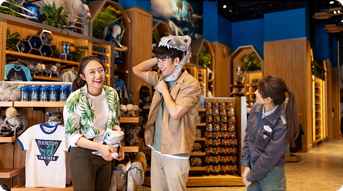 Curious about the prehistoric world from 65 million years ago in Jurassic World? You'll be amazed by how Jurassic World Isla Nublar recreated iconic scenes from the movies like the Main Gate and the Aviary.
Jurassic World Adventure
Remember how the main characters in the movie when they first arrived at the island? That's where your prehistoric adventure will start as well. Step through this wonderfully recreated iconic building from the movie and into the heart of Jurassic World Isla Nublar and escape the jaws of the Indominus rex with the main characters!
Raptor Encounter
At Raptor Encounter, you'll have the chance to have a close face-to-face encounter with the famous Raptors in Jurassic World! 
*Surprise easter egg: During your visit to Jurassic World Isla Nublar don't miss the chance to see one of our baby raptors. 
Jurassic Traders
Gigantic, breathtaking images of Jurassic World Isla Nublar's star attractions surround you in Jurassic Traders, where you can pick up a souvenir of your day. Guests can browse for the perfect present or a memento of your experience aboard the Jurassic World Adventure. 
At Jurassic World Isla Nublar, you can also experience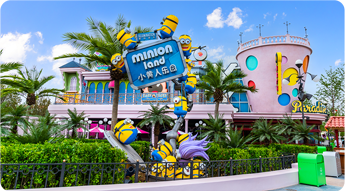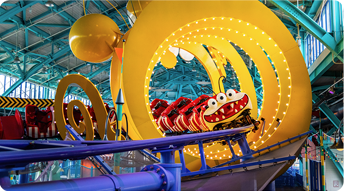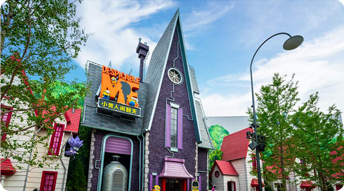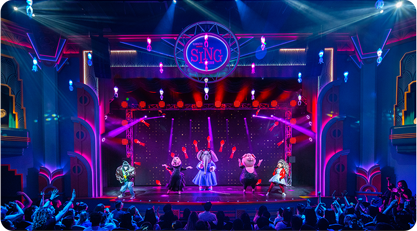 Be a part of the mayhem as Illumination's Minions invite you into their mischievous and joyful world!
Super Silly Fun Land
In Super Silly Fun Land, where Gru and his daughters first bounded, guests will be able to board the Super Swirly & Loop-Dee Doop-Dee rides and play the space Killer game, where Agnes won her famous unicorn, Fluffy.
Gru's Neighborhood
Visitors to Gru's neighborhood will be enthralled and delighted to discover ample photo opportunities inspired by Illumination's Despicable Me films, including the Minions causing mischief at every turn. If you're lucky, you will be able to listen in on secret conversations in Gru's underground lab.
*Surprise easter egg: Press the doorbell Gru's neighbors and you just might hear a response!
SING on Tour
And now playing at the Illumination Theater: SING on Tour! This extravagant musical and character event, inspired by Illumination's blockbuster film, will delight and exhilarate guests. Featured in the show are the beloved and indelible characters from the film, including Buster, Meena, Ash, Rosita, Gunter, Miss Crawly and Johnny – singing their hearts out and encouraging the audience to join in the fun!​
At Minion Land, you can also explore​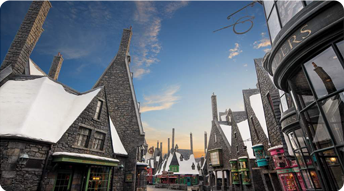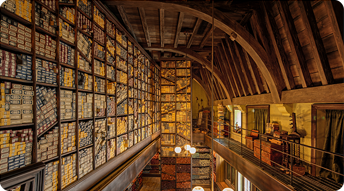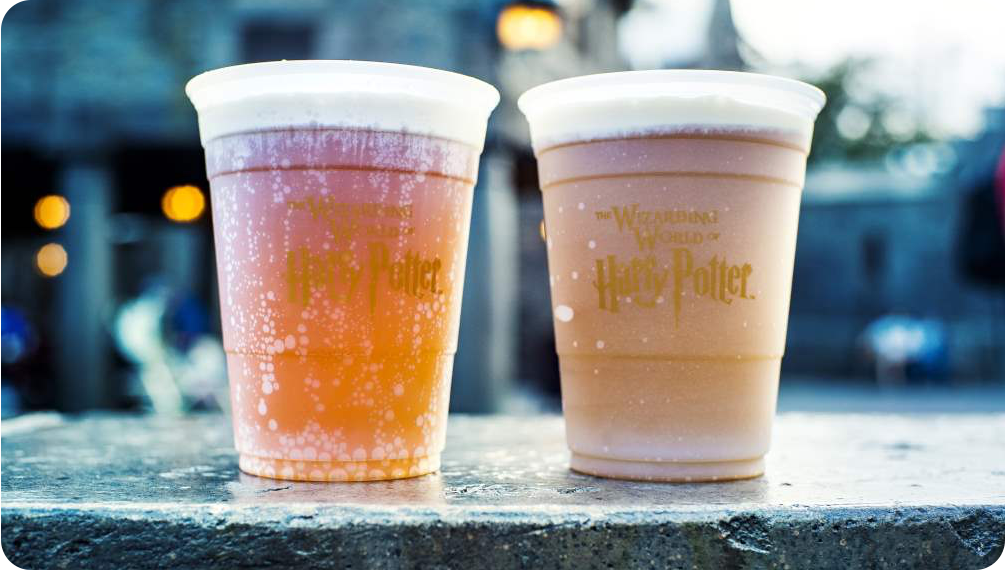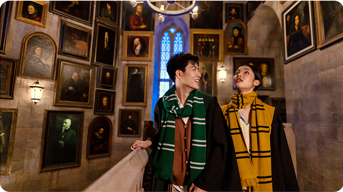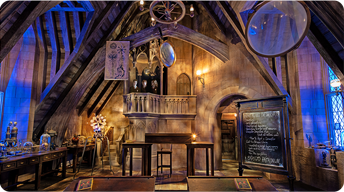 Follow in Harry Potter's footsteps. These are all familiar scenes from the movies! Visit the shops of Hogsmeade™ and sample fare from the wizarding world's best-known establishments, including Three Broomsticks™ and Hog's Head™. Pass through the towering Hogwarts™ castle gates and explore the familiar passageways, classrooms and corridors. Wave your wand to cast powerful spells. Experience what it feels like to be a wizard!
Ollivanders™
Remember the scene where Harry Potter™ was chosen by his wand at Ollivanders™? The wand shop has wand boxes stacked to the ceiling. Inside each box, a wand is waiting to choose a wizard.
*Surprise easter egg: There are several spell locations throughout Hogsmeade™, just flick your wrist, say the magic words, and cast your own spells! Come improve your wizarding skills now! 
Butterbeer™
Wizards, don't miss the famous Butterbeer™ as well. We specially recommend Three Broomsticks™, a rustic tavern where Harry Potter™ had his first taste of the sweet wizarding drink.​
*Surprise easter egg: In the Wizarding World bathrooms, you can hear the ghostly voice of an infamous Hogwarts™ haunt! ​
​Harry Potter and the Forbidden Journey™​
Visit Hogwarts at last! Make your way down the familiar passageways and corridors of Hogwarts School of Witchcraft and Wizardry. You'll visit iconic locations such as Dumbledore's office, the Defence Against the Dark Arts classroom, the Room of Requirement and more! Even say hello to the Fat Lady in her portrait. Then get ready to soar above the castle grounds as you join Harry Potter™ and his friends on an unforgettably thrilling adventure.
*Surprise easter egg: Look for the door labeled "Potions Classroom". You'll hear the voice of a female professor teaching a class and shouting Neville Longbottom's name particularly loudly.
Triwizard Spirit Rally
Remember the Triwizard Tournament from Harry Potter and the Goblet of Fire™? this riveting performance brought to you by the students of Beauxbatons and Durmstrang will have you cheering with excitement.​
At The Wizarding World of Harry Potter™, you can also experience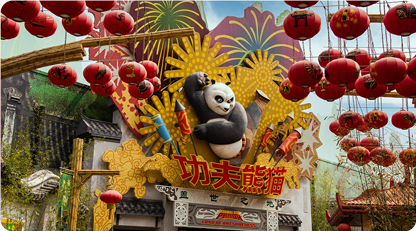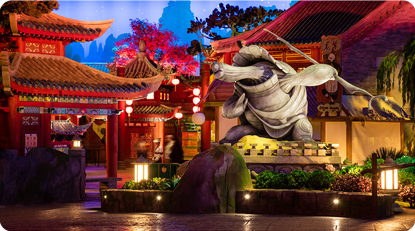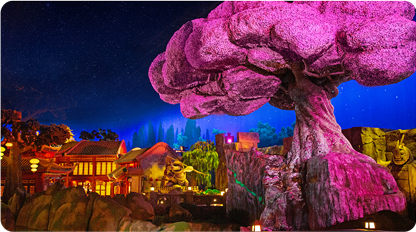 Experience traditional Chinese culture as you step into The Valley of Peace from the Kung Fu Panda movie series.​
Follow Po's example and find your inner Kung Fu master.
6 Iconic Locations
Take in all the beautiful sights from the movies, from The Valley of Peace, The Marketplace, Lantern Park, and The hidden village to The palace and its gardens.
Mr. Ping's Noodle House
Food lovers out there will be excited to try Mr. Ping's noodles. Every bowl is full of Mr. Ping's fatherly love for Po!​
At Mr. Ping's Noodle House, every dish, from delicious noodles to tofu, has Mr. Ping's secret ingredient. 
Peach Tree of Heavenly Wisdom
In Kung Fu Panda film, Master Oogway taught Po the secret to becoming a kung fu master under the Peach Tree of Heavenly Wisdom. That is when Po understood the true meaning of kung fu and truly became the next Dragon Warrior. Under the Peach Tree of Heavenly Wisdom, you'll go through the four seasons in a few hours. Immerse yourself in it and feel the eternal life in nature!
At Kung Fu Panda Land of Awesomeness, you can also experience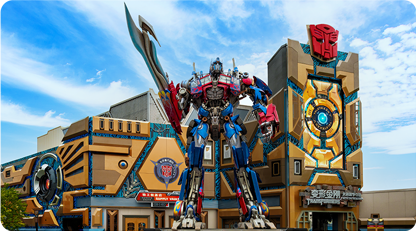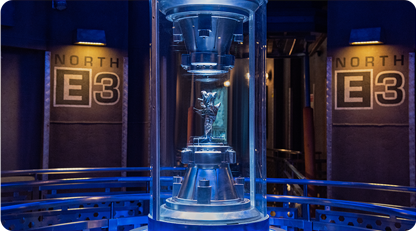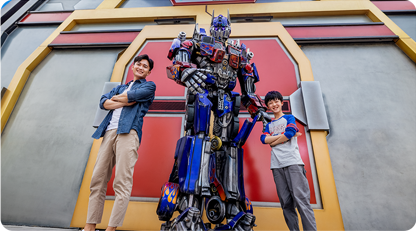 Transformers Metrobase is a converted Titan Transformer from the planet of Cybertron! Metrobase has come to Beijing after being recruited by Optimus Prime, the leader of the Autobots! He has joined the fight against the Decepticons. Are you ready to become an agent? Join the Beijing N.E.S.T Forces to fight alongside the Autobots against the Decepticons and protect Earth! 
​
Transformers: Battle for the AllSpark
Agents, the AllSpark is under attack! Hop aboard Autobot EVAC and fight alongside Optimus Prime, Bumblebee, and your favorite Autobot heroes to keep the AllSpark out of the evil Decepticons' hands. Do you have what it takes to defeat Megatron?
*A tip: After exiting Transformers: Battle for the AllSpark, be sure to stick around and look for Bumblebee from Transformers movies. Instead of his warrior image from the movies, he is now a DJ that's waiting for you to go over and say hello!
Transformers: More Than Meets the Eye​
Want to meet your favorite Transformers Bots face-to-face? The area around the lift is a great meeting place! Here, you can interact and take photos with Optimus Prime and Megatron. You'll even have the chance to meet Windblade, the first female Autobot unveiled in the park. If you're a fan of Transformers, don't miss out on such a wonderful experience!
At Transformers Metrobase, you can also experience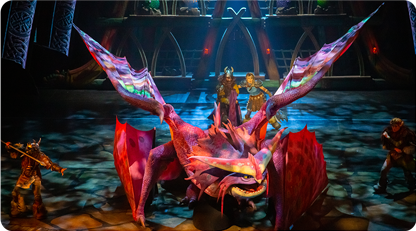 In How To Train Your Dragon franchise, Hiccup built a deep friendship with Toothless through his hard work. Immerse yourself in the land of Berk. Watch Hiccup and Toothless attempt to train a new dragon in the village, with the help of Astrid and her dragon, Stormfly. Find out if the gang can train the untrainable.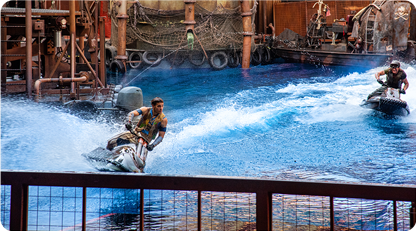 Are you ready to go? Experience a tidal wave of excitement during this larger than life sea battle – an epic clash of the Smokers versus the Atollers. Witness jumping jet-skiers and perilous plunges on the deep blue sea as the two rival clans battle for dominance of Dryland – the mythical oasis that could be their salvation. Don't miss Universal's thrill-a-minute, fan-favorite experience!
Can't stop thinking about Agnes's unicorn from Despicable Me? Want to collect all kinds of wizarding replicas from Harry Potter™? You can find all the movie memorabilia and souvenirs you need at various souvenir stores in each themed land as well as the Universal Studios Store!

Product pick-up service tip
After purchasing items from stores within the park, you can ask our staff to use our product pick-up service, which will let you pick up your purchase at the Universal Studios Store on Hollywood Boulevard at the end of your visit.​
Public Transportation: If you are taking the subway, Universal Resort Station is the terminus of Batong Line and Subway Line 7. In terms of bus transportation, you can take Bus No. 589 and T116 to reach Universal Beijing Resort.​
Car or Coach: Universal Beijing Resort is adjacent to the East 6th Ring Road and Beijing-Harbin Expressway. Guests who arrive in their own vehicles, or those who come by taxi, ride-hailing, dedicated tourist buses, tourist coaches or other transportation, are able to enter Universal Beijing Resort through "Tianjiafu" exit of Beijing-Harbin Expressway and "Zhangjiawan North" exit of 6th Ring Road. There are also more than 10,000 parking spaces. Just follow the signs to park after you arrive.​
Bike and Parking: Universal Beijing Resort also provides a designated parking lot in the west section of parking garage 1F for private bicycle and shared bike parking demands.​
* If you are self-driving, please follow "Universal Beijing Resort" Official WeChat Account and click "Pre-paid parking online" on the menu and complete payment in advance, to reduce your wait time on-site.
Universal Studios Beijing One-Day-Dated Ticket​

Valid ID Card​

Face masks (While enjoying your journey in the resort, please make sure to put on your face mask)​

Get reservation code via Universal Beijing Resort Official App or Alibaba/WeChat mini program.
* For more policies and safety reminder, please refer to Universal Beijing Resort and Universal Studios Beijing Rules and Regulations.
​Friendly reminder:
Please plan your schedule based on the waiting time and opening hours of the attractions. A guest may not be able to experience all attractions in one day during the operating hours of the Park. Guests' access to attractions is determined by specific safety regulations (e.g., height restrictions or physical health conditions). In consideration of extreme or severe weather or air quality that may impact our operations (e.g. snow, rain, hail, lightning, sandstorm, air pollution, etc.), park capacity, health and safety, special events, and other necessary circumstances, all or parts of park are subject to change or closure from time to time. For more information, please visit here.