Important Safety Guidelines
You Ready for This? Because We're All Set.
We can't wait to welcome you to our park. To make sure you have a fun and safe time, we've set some guidelines to get the good times going. Things like social distancing, health screenings, and sanitizing. Basically, we're going all out so you can go all in.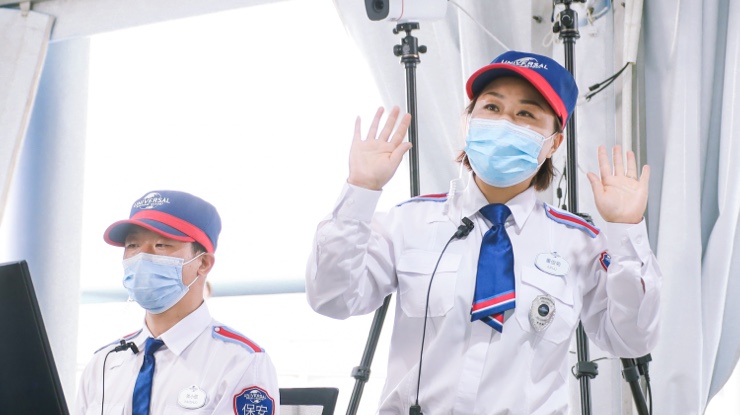 Health and Safety Guidelines for Your Visit
The health and safety of our team members and guests is number one priority at the Universal Beijing Resort.  In response to the elevated pandemic control measures that have been recently introduced within the People's Republic of China, Universal Beijing Resort will adhere to all required standards and procedures as outline by the China CDC authorities. This includes but not limited to; scan-in to all locations via the Beijing Health Kit Mini-APP when applicable, produce a Green Arrow Travel Kit upon arrival to the resort, other information as deemed necessary by the China CDC and local health authorities.
Advice on Pandemic Prevention and Control for Guests Visiting Universal Beijing Resort
Despite the pandemic situation remains grim globally, the domestic situation has been effectively controlled as there is no increase of confirmed local cases across China and all cases in Beijing infected by sources outside of Beijing have been discharged. Based on the current pandemic situation, we hereby propose the following advice on pandemic prevention and control measures for the Trial Operations (TO) at Universal Beijing Resort (UBR):
For both Trial Operations and post-opening operations, remote control should be strictly executed. Reservation based on time slots should be implemented in order to effectively guide and control guest flow and avoid gathering. Guests in the following situations shall not be allowed (Translation note: modified to 'please do not' in handwriting) to make reservations or purchase tickets:
Personnel with travel or residence history in the past 21 days to prefecture-level cities (municipalities, districts and counties of sub-provincial cities, similarly hereinafter) with medium or high-risk areas or with newly confirmed cases;
Personnel with travel or residence history overseas during the past 28 days;
Personnel who have contact history with covid-19 cases (confirmed and asymptomatic) and suspected cases during the past 21 days; or has contact history with close contacts in the past 14 days;
Personnel who have contact history with people who has epidemiological link and has developed fever or respiratory symptoms;
There is an infection cluster (with 2 or more cases developing fever and/or respiratory symptoms in small groups like family, office, school classes and etc. in 14 days);
Confirmed cases who have been discharged after recovery, or asymptotic cases who have been released from concentrated quarantine and medical observation, but are still in the follow-up period or medical observation period; 
Personnel who have developed suspected COVID symptoms including fever, dry cough, breathing difficulty (dyspnea), fatigue, muscle pain (myalgia), headache, changes in smell and taste (hyposmia and dysgeusia), sore throat, nasal obstruction and runny nose, nausea and vomiting, diarrhea and etc.;
Personnel with high infection risks as defined by specialized authorities who have not yet competed the health management requirements.  
 
We ask that all guests and Team Members in Universal Beijing Resort comply with the following:

Guests who are travelling from outside of Beijing might be denied entry due to sudden changes of risk status from their prior location.  Additional restrictions may apply that guests must have completed all quarantine procedures when entering Beijing before experiencing the Universal Beijing Resort. 
Guests who have symptoms associated with COVID-19 should not enter the resort and seek medical attention immediately at a local hospital or facility. During your visit, if you start to experience symptoms of COVID-19, we ask that you please contact the nearest team member for Health Services support. For more information please visit national health commission (www.nhc.gov.cn) and/or the Chinese Center for Disease Control and Prevention (http://www.chinacdc.cn/). Above requirements may change based on government direction.
 
Please note the NHC advises that older adults and people of any age who have serious underlying medical conditions might be at higher risk for severe illness from COVID-19. Guests should evaluate their risk in determining whether to attend. People who show no symptoms can spread COVID-19 if they are infected, any interaction with the general public poses an elevated risk of being exposed to COVID-19, and we cannot guarantee that you will not be exposed during your visit.
We appreciate your cooperation during this unprecedented time. For the latest guidelines, please visit the National Health Commission and/or the Chinese Center for Disease Control and Prevention.