Universal Beijing Resort Celebrates Grand Opening, Officially Opens Gates to Guests Providing Blockbuster Experience
The destination offers an immersive vacation experience, establishing a brand-new cultural tourism landmark in Beijing
Beijing, Sep. 20, 2021— Universal Beijing Resort today celebrated a monumental milestone - the grand opening of the Universal Studios Beijing theme park, Universal CityWalk Beijing, and two spectacular hotels, namely The Universal Studios Grand Hotel and NUO Resort Hotel. The widely anticipated grand opening brings together Universal's most popular experiences and affords them a Chinese cultural infusion. This extraordinary dream vacation destination will welcome guests from China and abroad with blockbuster fun beyond imagination, bringing them into an extraordinary immersive blockbuster movie world.
The End of 20 Years Preparation & Construction, the Beginning of a Brand-New Journey
Mr. Tom Williams, Chairman and CEO of Universal Parks & Resorts, Mr. Song Yu, Party Secretary and Chairman of Beijing Tourism Group, and Mr. Tom Mehrmann, President and General Manager of Beijing International Resort Co., Ltd. Theme Park and Resort Management Branch, along with other invited guests attended the grand opening ceremony. Representatives of the constructors and partners of the Universal Beijing Resort project and Team Members of the resort witnessed this important historic moment. Afterwards, the first group of guests visited Universal Beijing Resort to enjoy extraordinary blockbuster fun and celebrate the momentous opening day. The official opening of the resort marks the establishment of a new cultural tourism landmark in Beijing, and caps off the culmination of 20 years of preparation and construction, turning the page on the beginning of a brand-new journey.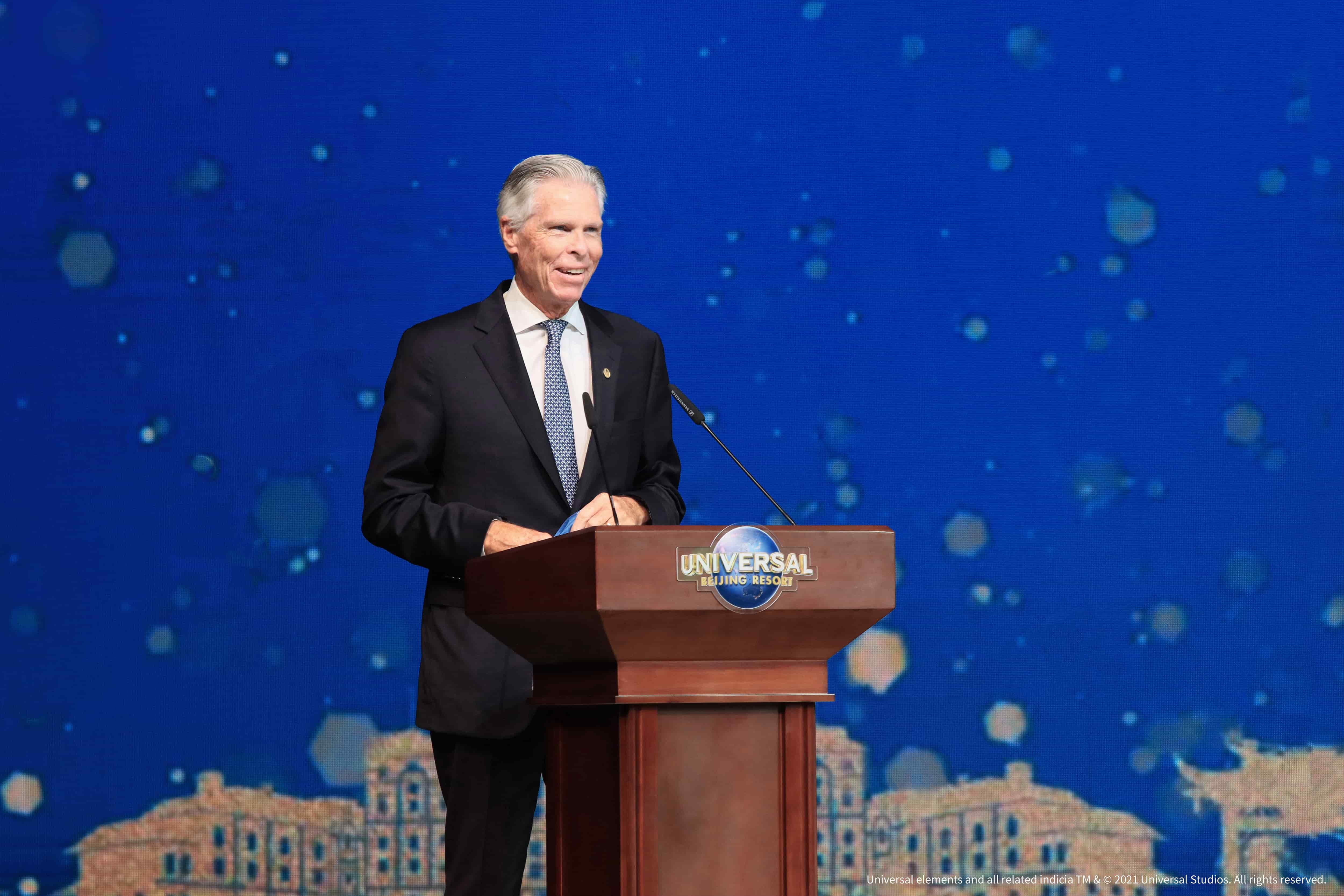 "The grand opening of Universal Beijing Resort is an important moment for Universal Parks & Resorts. Universal Beijing Resort has been 20 years in the making and marks an important milestone for Universal Parks & Resorts, our partners and everyone associated with this project," said Mr. Tom Williams, Chairman and CEO of Universal Parks & Resorts. "We are grateful for the guidance and commitment this project has received from all levels of government. As for me, I have personally looked forward to this day for over 20 years and to now see our dream fulfilled is a source of great pride and satisfaction to me and our entire team."
Representing a major investor in Universal Beijing Resort, Mr. Song Yu, Party Secretary and Chairman of Beijing Tourism Group said, "In the process of cultural integration of world cultures, the establishment and opening of Universal Beijing Resort has brought a different charm to Beijing, a thousand-year-old capital, and has also brought the advantages of the Beijing sub-center with more vitality. I believe that Universal Beijing Resort is set to have a bright and promising future and champion the expansion of the tourism industry in the capital city as a beacon of entertainment and service."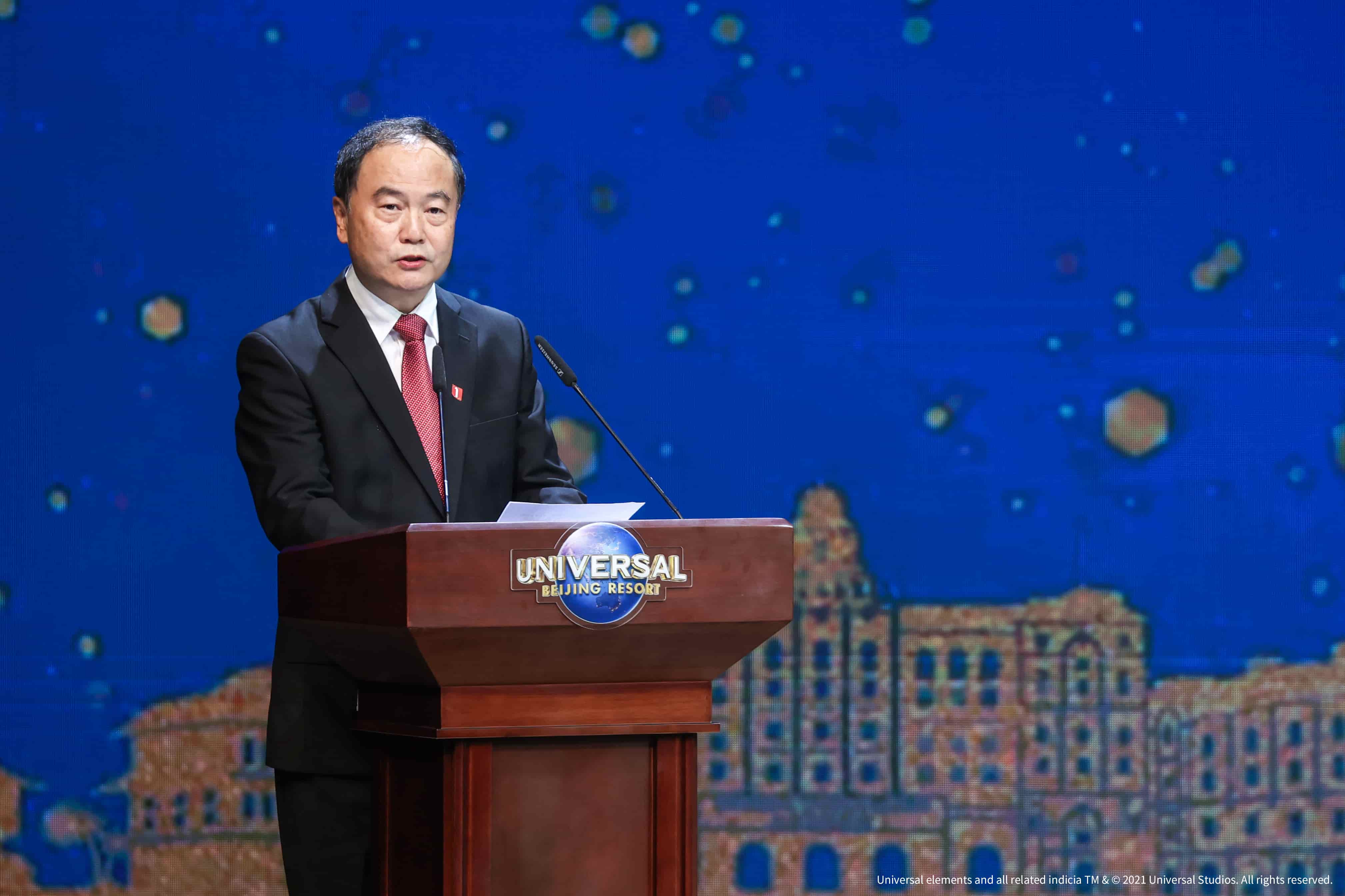 Lights, Camera, Action! The Blockbuster World Comes to Life in Here!
The widely anticipated opening ceremony integrated classic big screen inspiration and demonstrated the extraordinary charm of the blockbuster movie world offered by Universal Beijing Resort. The grand opening ceremony was held in the Universal Majestic Theatre of the Hollywood land within the park and kicked off with a gorgeous opening music comprised of a medley of film scores. The magnificent introduction was followed up with the phenomenal "In a Universal Soundstage" performance, bringing the audience right into the heart of movie production. Next, two titans of the big screen, Steven Spielberg and Zhang Yimou, welcomed in the opening of Universal's newest park with a video greeting, wishing Universal Beijing Resort success and guests a good time. The Universal theme song, "This is Universal," was then performed by Tan Weiwei, evoking the remarkable Universal experience about to unfold in the blockbuster world beyond the gates. Enthusiasm for the ceremony peaked when Mr. Tom Williams, Chairman and CEO of Universal Parks & Resorts, Mr. Song Yu, Party Secretary and Chairman of Beijing Tourism Group and other distinguished guests together snapped down the clapperboard signifying the official opening of the highly anticipated Universal Beijing Resort for guests, ushering in a new cultural and tourism landmark in Beijing created by teams working together in China and throughout the world.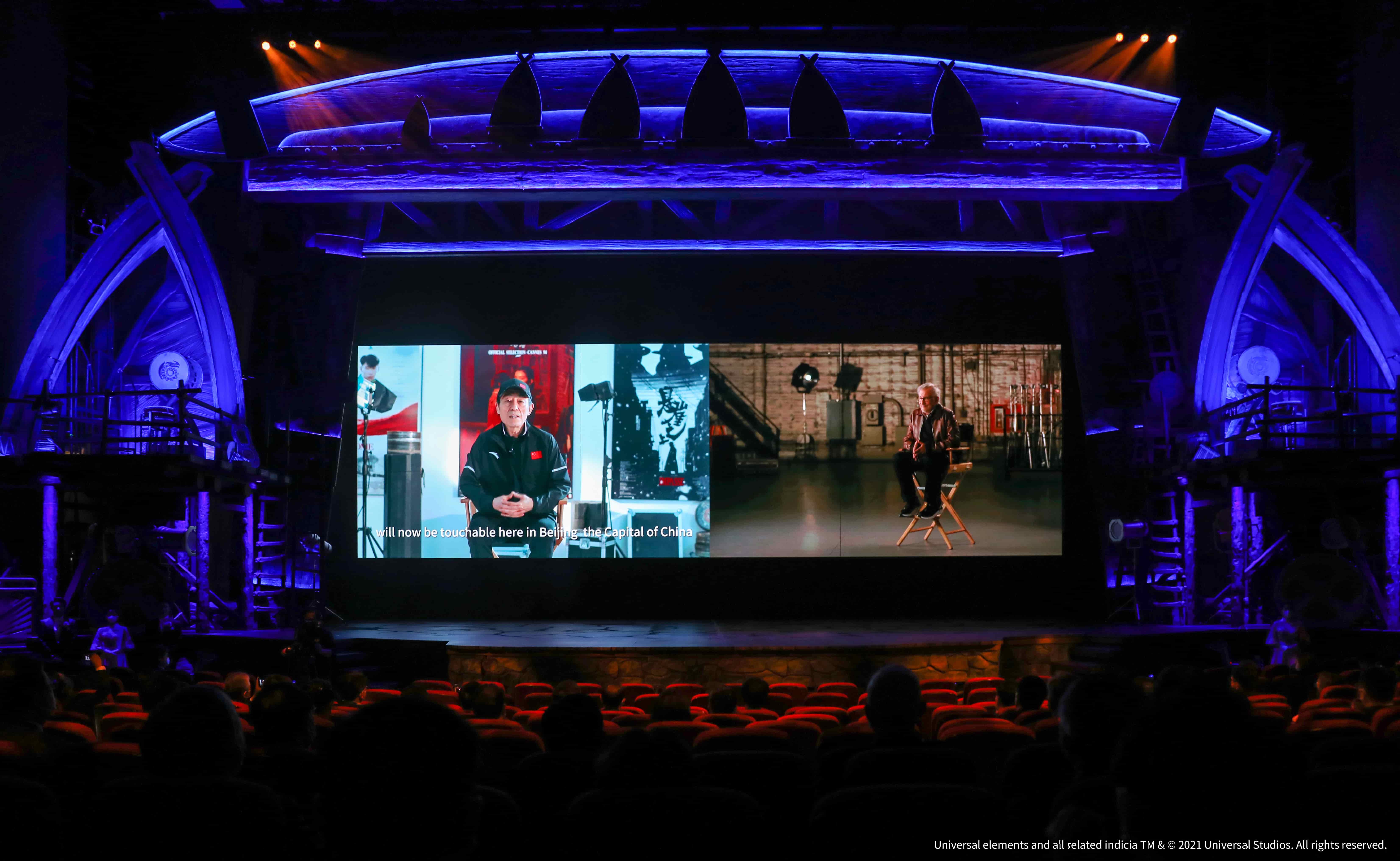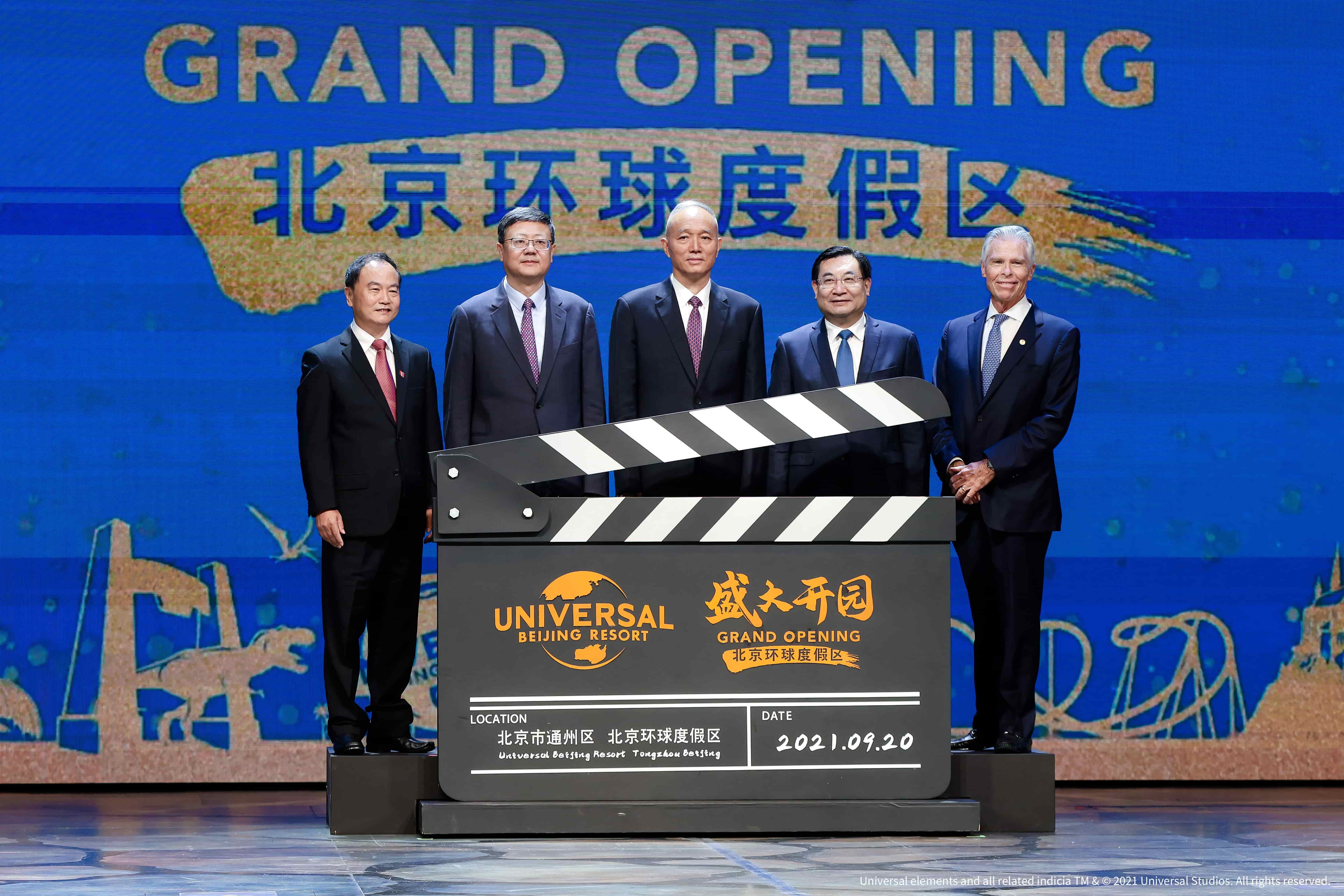 Showcasing a unique experience of "Where Movies Come to Life" with an amazing connection between classic film scenes and reality, 4 film actors including Li Bingbing, who appeared in "Transformers: Age of Extinction," Liu Haoran, who voiced Hiccup in the Chinese release of "How to Train Your Dragon: The Hidden World", as well as William Chan and Guan Xiaotong, also visited Universal Beijing Resort as invited special guests, to interact with characters to recreate classic movie scenes.
On the grand opening day, tens of thousands of guests visited Universal Beijing Resort to enjoy blockbuster fun with immersive experiences, explore authentic movie scenes offered throughout the seven themed lands of Universal Studios Beijing, and experience the rich selection of rides and attractions, shows and entertainment, themed dining and merchandise options, as well as other extraordinary elements exclusive to Universal Beijing Resort. These include the first Kung Fu Panda themed land in Universal's theme parks, the world's first Transformers themed land, the world's first WaterWorld themed land, the world's largest Minion Land, and a brand-new experience within the first Jurassic World Isla Nublar themed land. Furthermore, the Hollywood themed land with its magnificent Untrainable show, and the highly acclaimed The Wizarding World of Harry Potter™ land attracted guests with their authentic and immersive experiences.
After 20 years of preparation and construction, Universal Beijing Resort is set to bring movies to life on September 20th, 2021. "20" is not just any number, but a symbol of and tribute to the efforts of the constructors and Team Members over the past 20 years, and reflects our pride and excitement for the grand opening. From now on, the movie world is finally within reach, perfectly blending Chinese and Western cultures and seamlessly combining creativity and imagination. Universal Beijing Resort is finally opening its doors to the Chinese and international guests, immersing them in a blockbuster world beyond imagination where fun and festivity transcend expectations.