Universal Beijing Resort Reveals Wonderful Winter Holiday Experience, Bringing More Unique and Spectacular Fun in Winter
Universal Studios Beijing 1.5-Day Dated Ticket starts sales, creating more possibilities for guests to awesome up the winter holiday at Universal Beijing Resort
Beijing November 25, 2021 —— From December 3, 2021, to January 8, 2022, Universal Beijing Resort will present guests with the first wonderful seasonal experience - the "Universal Resort Beijing Winter Holiday" experience. The resort will be turned into a wonderland for guests with immersive winter-themed experiences like no other. In addition to the blockbuster experience from the themed lands, guests will be greeted with Christmas decorations as they enter the park, then have the opportunity to encounter a sparkling 22-meter Christmas tree, taste 80 exquisite holiday-themed food, and the opportunity to purchase over 100 special limited winter-themed merchandise throughout the park. Meanwhile, two resort hotels and Universal CityWalk Beijing will release guests' playfulness in the rich festive atmosphere and create lasting memories. In addition, Universal Studios Beijing 1.5-Day Dated Ticket starts sales, and will offer guests more time to immerse themselves in Universal Studios Beijing. The unique winter holiday experience and warm holiday atmosphere will make Universal Beijing Resort a must-see travel destination you can't miss out on.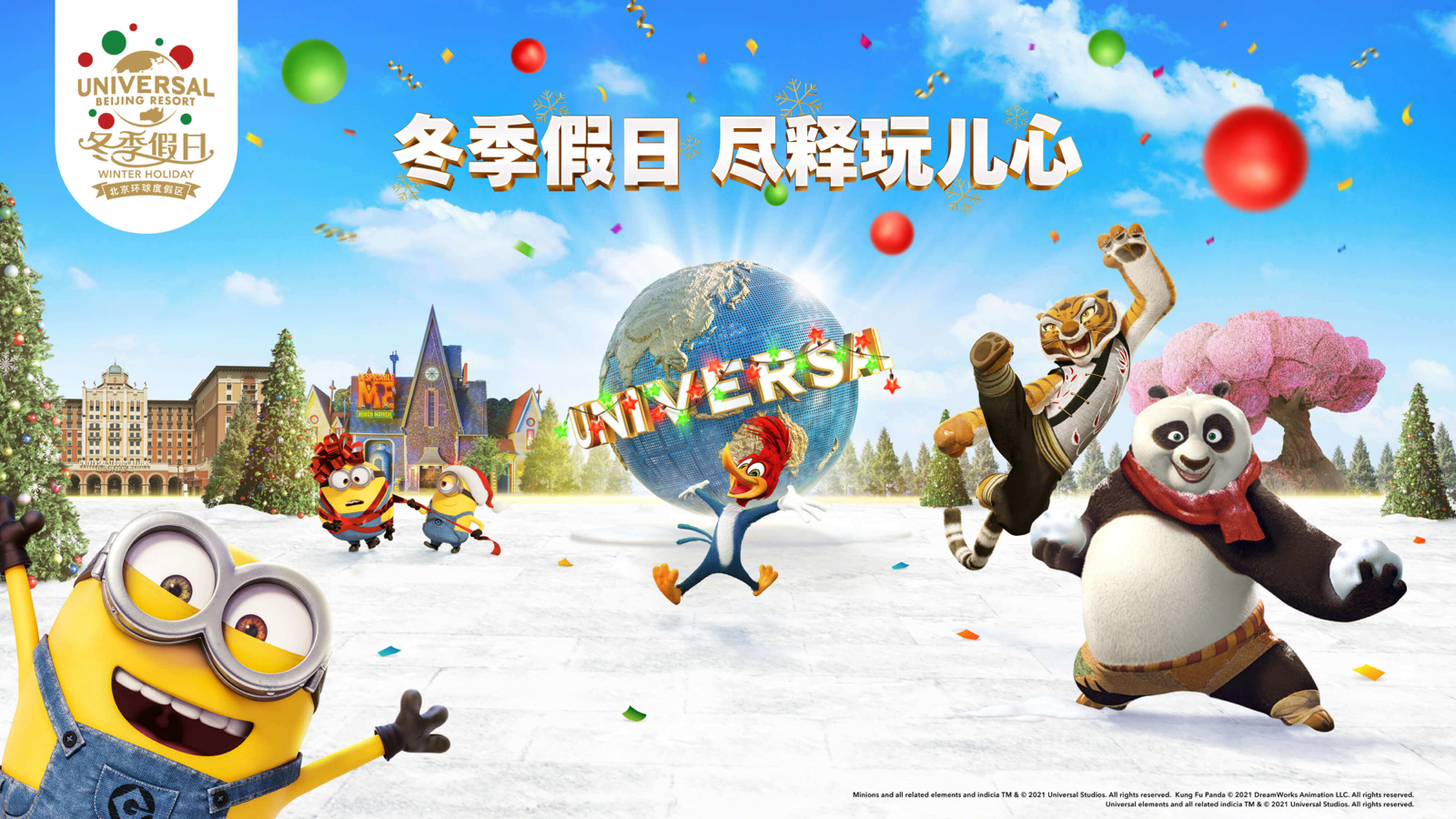 Universal Beijing Resort will present guests with the first wonderful seasonal experience - the "Universal Resort Beijing Winter Holiday" experience during December 3, 2021, to January 8, 2022
22-Meter-High Giant Christmas Tree Dazzle the Universal Studio Beijing with Nearly 100,000 Colorful Ornaments, Lighting up the Winter Blockbuster World
In the first winter season after the grand opening, the blockbuster world becomes unique because of the arrival of winter. The newly decorated Universal Beijing Resort is permeated with the joyful atmosphere of winter festivals, illuminating the winter fun of every guest who enters the world of blockbuster. Entering the theme park, a dizzying array of fascinating theme decorations create a different immersive park experience. The unique Christmas tree at the Hollywood-themed land entrance is ingeniously inspired by bamboos, which is an eye-opener and brings a refreshing visual effect; the movie stars will dress up in their new winter attires to offer their sincere welcome to each of the guests. Strolling on Hollywood land, guests will be immersed in an intense festival atmosphere. Built as a tribute to Hollywood Golden Age, the façades of the stores located in Hollywood themed land are decorated with exquisite Christmas wreaths. Guests may encounter the highly sought-after movie "stars" that are here. At this moment, they put on festive winter costumes to share the fun of winter and greet the arrival of winter together. Whether during the day or night, the 22-meter-high giant Christmas tree decorated with nearly 100,000 ornaments by the Lagoon is the most dazzling scenery among the many themed decorations. The festival atmosphere created by the festive light decorations, the "snowflakes" falling from time to time, has become a place not to be missed in the world of winter travel. Strolling in the theme park of Universal Studios Beijing in winter, it seems that every day is a joyous festival worth celebrating.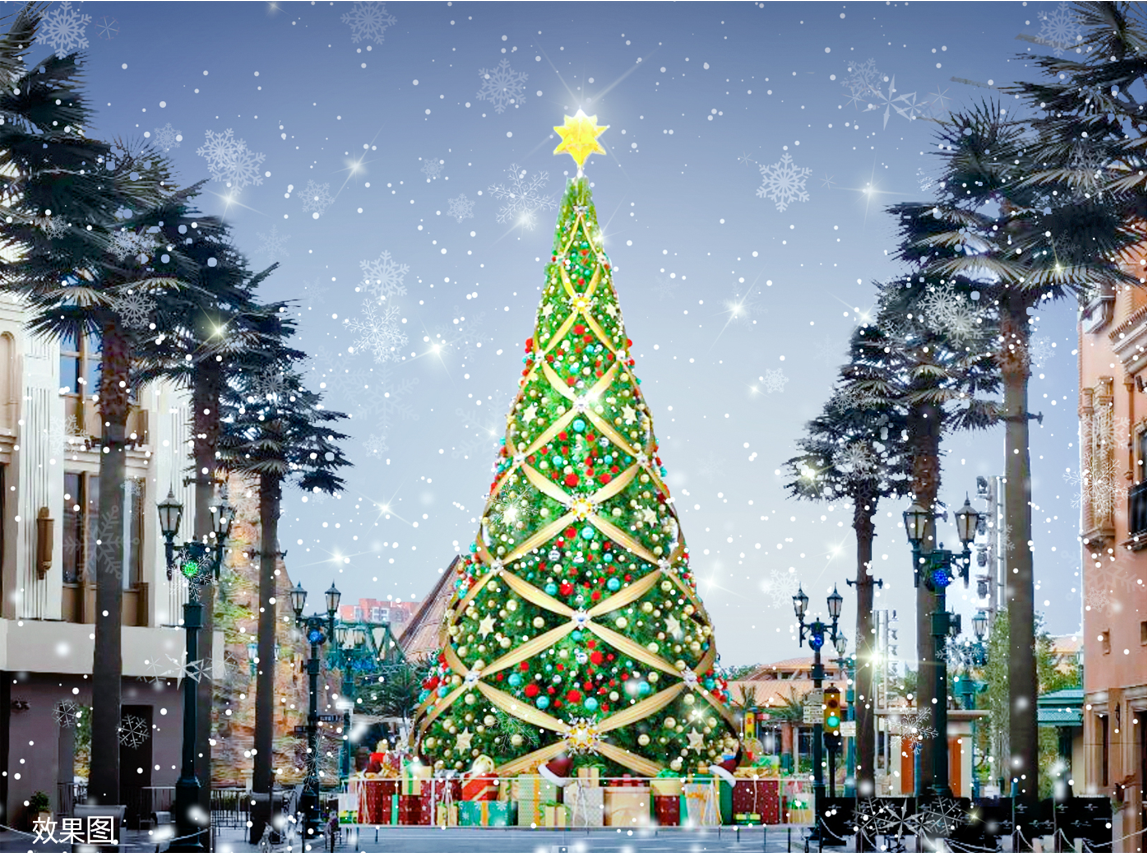 For reference only
22-Meter-High Giant Christmas Tree Dazzle the Universal Studio Beijing with Nearly 100,000 Colorful Ornaments, Lighting up the Winter Blockbuster World
New Taste and Seasonal Delicacies to Warm Your Winter
Explore the winter blockbuster world and encounter delicious food that can only be tasted in winter. Guests can find authentic Christmas snacks and drinks, such as mulled wine, hot chocolate with theme decorations, and candy gingerbread any time at the food kiosks in the park. Exquisite and delicious food and drinks allow guests to replenish energy anytime, anywhere. At Hammond's in Jurassic World Isla Nublar and the Sunset Grill in Hollywood, guests can enjoy winter-limited Christmas-themed delicacies in a robust festive atmosphere with their loved ones while watching the gorgeous Christmas tree by the Lagoon from a distance. What an experience it will be to enjoy a holiday meal together with friends and family in a strong festival atmosphere this winter at Universal Beijing Resort.
More than 100 Winter Special Merchandise to Fulfill Your Winter Wish List
Guests can have endless fun and lasting memories this winter in the blockbuster world of Universal Beijing Resort. More than 100 types of special winter trendy merchandise will satisfy guests' winter wish lists. In Minion Land, guests can purchase energetic sports products and the Minions will transform into cool ice and snow players. The winter special merchandise inspired by the diverse world of blockbusters and winter features will satisfy your winter wish list, whether for yourself or give them to your friends or family; they are the perfect ending for guests on their winter immersion journey.
Special Winter Offerings at Universal CityWalk Beijing and the Two Resort Hotels
As the one-stop dining and entertainment center in the resort, guests can experience unique winter activities at Universal CityWalk Beijing with free admission. Guest can immerse themselves in fantastic holiday music and dazzling night decorations at the performances of Universal CITYWALK's Colorful Nights, an exclusively designed activity for Universal CityWalk Beijing to light up the nightlife experience. In addition, many restaurants of Universal CityWalk Beijing offer special festive limited menus to warm your heart and celebrate moments of togetherness.
To make guests' experience to Universal Beijing Resort this winter more immersive and unforgettable, the two on-site resort hotels dedicate to bringing guests new winter experiences with endless excitement. During their stay, guests can enjoy special Christmas-themed afternoon tea in a cozy and delighting atmosphere at the Lobby Lounge of the NUO Resort Hotel. The two hotels have prepared an array of festive activities such as Christmas arts and crafts at Kids' Club for guests to explore. Delightful Christmas buffet dinner offered by two hotels will take guests on a tasteful journey they will never forget. They can enjoy the wonderful jazz performances or encounter their favorite mischievous Minions on Christmas Eve while feasting on delicious and sumptuous thematic food. Guests can participate in New Year's Eve countdown party held at Universal Studios Red Dragon Lounge of the Universal Studios Grand Hotel or at the Lobby Lounge of NUO Resort Hotel to celebrate a new year's coming.
Considerate Measures and "Warm-hearted" Services to Ensure Guest Experience in Winter 
Many detailed measures will be launched to keep guests' experience in winter. To improve the guests' experience in winter, nearly two-thirds of the facilities and venues of Universal Beijing Resort were built indoors or with coverings. As winter approaches, Universal Beijing Resort also takes a series of considerate measures to provide a warm park experience in winter. For example, heating equipment is provided in the outdoor lining-up areas, and warm water will be provided to the guests from indoor water fountains and restaurants around the resort. The indoor environment is thermostatic and comfortable at a suitable temperature. Some outdoor entertainment experiences and performances will be shifted indoors based on weather conditions and outdoor temperatures. Universal Beijing Resort may adjust operation hours of selected rides and attractions according to winter temperature and weather conditions. Green thinking has been incorporated into the energy monitoring system, to help sustainable development.
Universal Studios Beijing 1.5-Day Dated Ticket and other Products Creating More Possibilities for Guests to Explore Wonderful Winter Experience
November 20, Universal Studios Beijing launched 1.5-Day Dated Ticket on official channels. With more flexible time, guests can stay at the resort longer and take their time to experience more. In addition, starting from December 3, Universal Studios Beijing Gift Voucher will open sales making a perfect surprise gift to friends and family. The gift voucher can be conveniently delivered and flexibly redeemed in 365 days upon purchase, enabling guests to share their happiness with friends and family. From 12/24/2021 to 1/2/2022, guests can book a Christmas (Stay) Package with one night's stay and dining experience to shape their stunning year-end holiday at Universal Beijing Resort. For details, please visit the Universal Beijing Resort official website, App or call Universal Beijing Resort Contact Center at +86-4000-688-688 or +86-10-89688688.