Universal Beijing Resort Releases Details on CityWalk, Bringing Unique Entertainment Experience with Endless Possibilities
Leading Collection of First Stores and Flagship Stores Set to Boost Beijing's Consumption Economy
【June 3rd, 2020, Beijing】Universal Beijing Resort (UBR) today officially released features and details on Universal CityWalk Beijing (CityWalk), the resort's entertainment center. As one of the iconic features of Universal Beijing Resort, Citywalk will provide guests with a comprehensive and diverse range of entertainment, food and shopping, enhancing their visit with a vibrant and highly interactive atmosphere, giving them the freedom to explore endless possibilities.
CityWalk is set to open in 2021, together with Universal Studios Beijing, the Universal Studios Grand Hotel and the NUO Resort Hotel, forming Universal Beijing Resort. It is located at the main entrance of Universal Studios Beijing and connects the theme park, parking facilities and subway entrances, allowing guests easy access to the fun excitement without even having to enter the theme park. CityWalk will also feature several new concepts making their first-ever debut, further enriching a unique experience that can be found nowhere else.
"As the starting point of every guest's UBR journey, CityWalk provides guests their first glimpse of the beyond-imagination experience they can expect at Universal Beijing Resort," said Tom Mehrmann, President and General Manager of Universal Beijing Resort. "However, CityWalk is also designed to stand as a destination in its own right, as a new high-quality recreation and entertainment option for residents and tourists in Beijing. We believe CityWalk will drive the formation of a new cultural business center, giving a strong boost to Beijing's economic development."
Universal CityWalk Beijing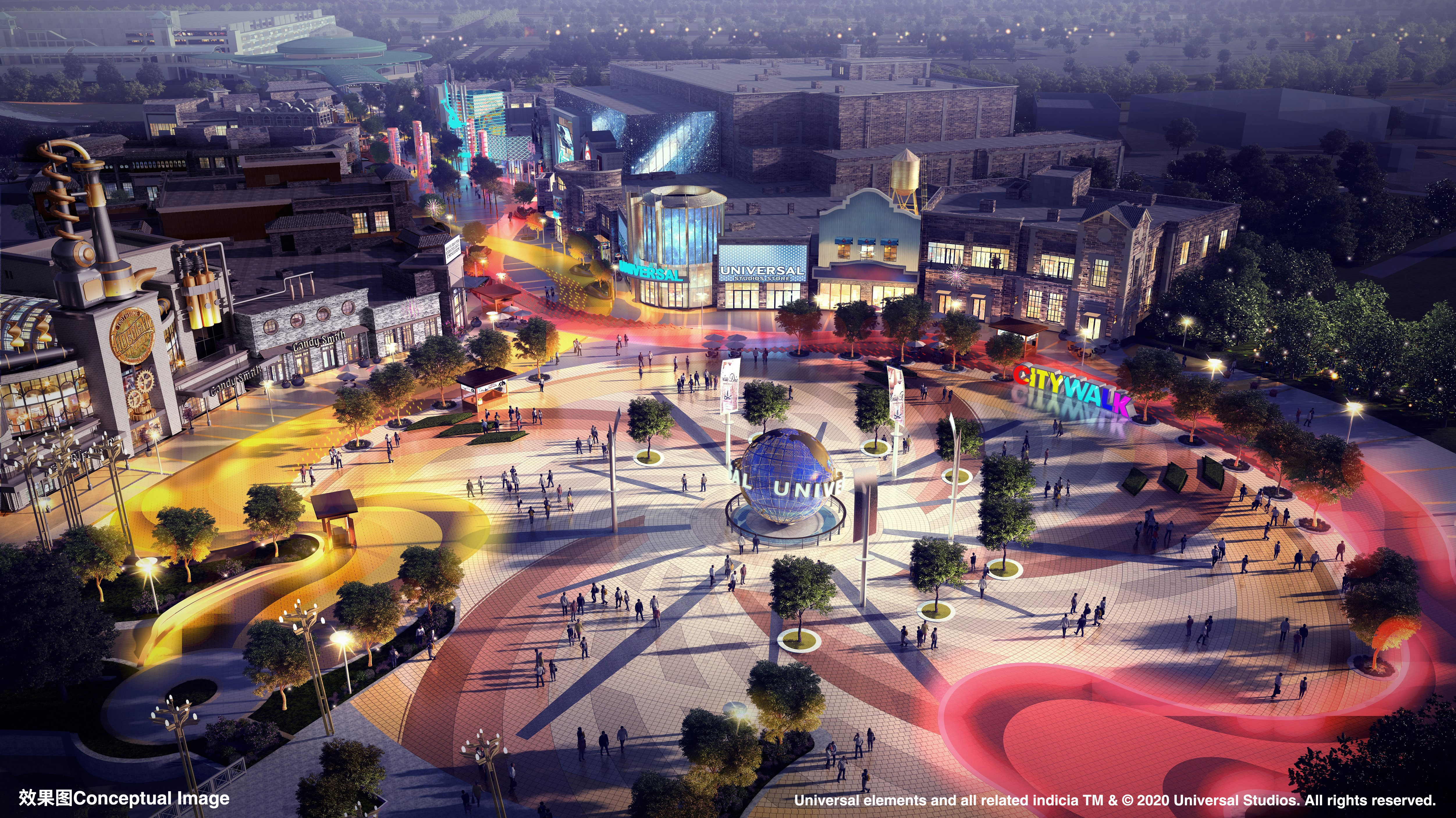 As a one-stop entertainment center offering high quality dining, shopping and entertainment experiences, Universal CityWalk Beijing is a matrix of 24 venues, including a multiplex cinema, 15 distinctive food and beverage offerings featuring both Western and Asian cuisines, 8 world class retail stores, as well as a diverse range of 11 retail and food and beverage carts. Aiming to bring a fresh and unique experience to local consumers, the debut of CityWalk will center around five highlights.
Highlight 1: A leading collection of new brands, first stores and flagship stores make CityWalk one of Beijing's largest centers of the "first store economy".Universal CityWalk Beijing will see the launch of three new brands – child-friendly Cutie Cones Ice Cream, Southeast Asian-style Neon Street Hawkers and vibrant CITYWALK WUBEI CRAFT FOOD AND BEER. The popular CITYWALK RED OVEN PIZZA BAKERY and The Cowfish Sushi Burger Bar in Universal Orlando Resort will mark their first-ever debut outside of the USA. Kakao Friends, the beloved Korean cartoon characters, will also appear in their first flagship store in Beijing at Universal CityWalk Beijing. In addition, the famous trendy toys brand POP MART's concept store worldwide will also debut in CityWalk. Located at the end of CityWalk, Universal CITYWALK – The Toothsome Chocolate Emporium & Savory Feast Kitchen will be the largest of any Universal theme park worldwide. The 600-square-meter Universal CityWalk Beijing location of Peet's Coffee, originating in Berkley, California, will also be the largest in Asia.
CITYWALK RED OVEN PIZZA BAKERY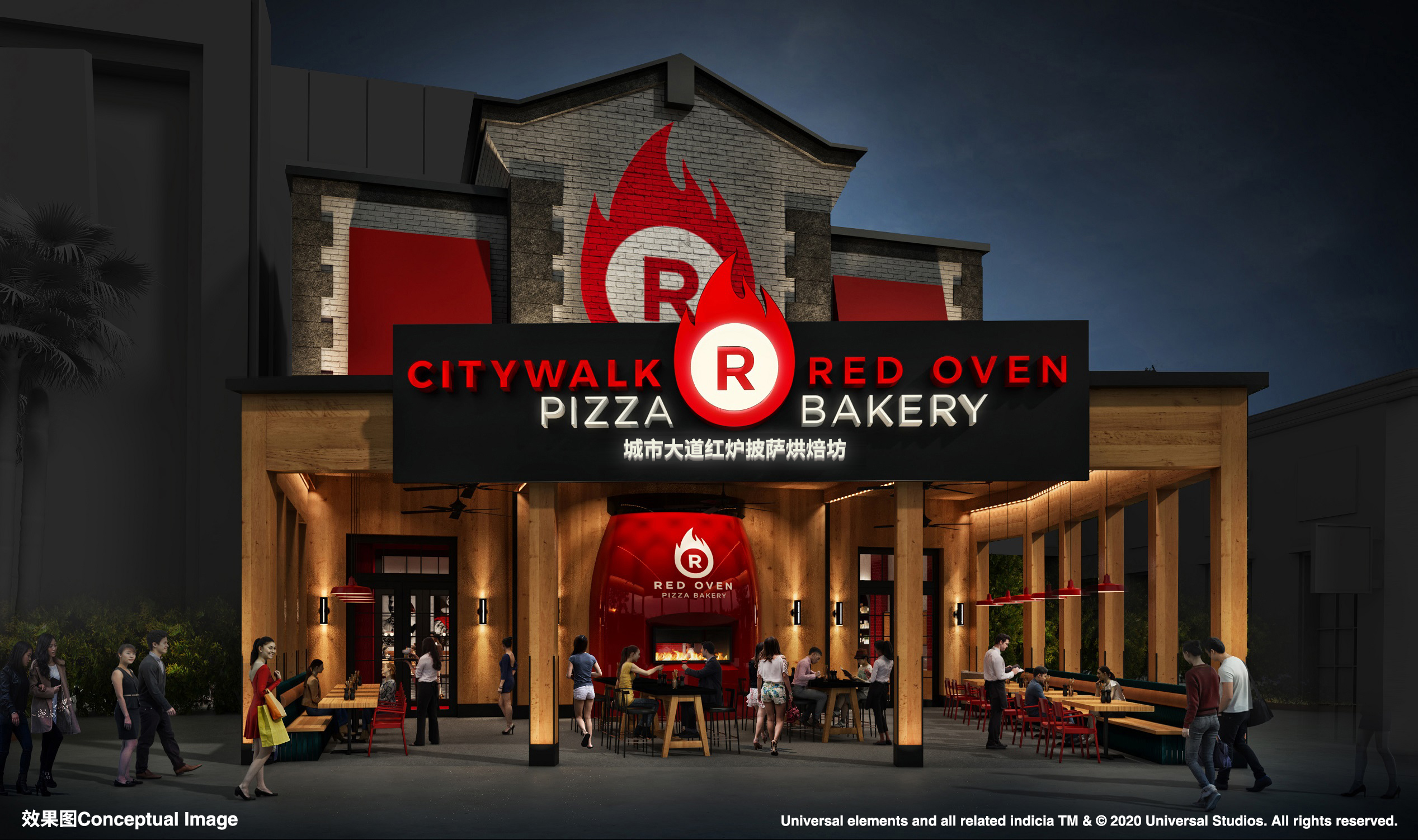 Highlight 2: The largest commercial IMAX screen in Beijing will provide the remarkable IMAX with Laser experience for local moviegoers, which also marks the first resort destination IMAX theater in China. Reflecting the important role of movies at Universal Beijing Resort, the state-of-the-art Universal CITYWALK Cinema is located at the center of CityWalk, set to become one of the most distinctive high-end cinemas in Beijing. Including 11 theaters and 2000 seats, the Cinema is specially designed to host premieres and VIP events, with the largest commercial IMAX Laser theater in Beijing.
Highlight 3: In addition to offering unique shopping and dining choices, CityWalk will also provide guests with diverse interactive experiences and high-quality services. CityWalk's one-of-a-kind restaurants are more than just a place to eat, they are fully immersive entertainment offerings that seek to make every guest say not just "yum", but "wow". Universal CITYWALK – The Toothsome Chocolate Emporium & Savory Feast Kitchen will feature an enchanting steampunk atmosphere, based around the story of Professor Doctor Penelope Tibeaux-Tinker Toothsome and Jacques the Robot, who appear onsite as they interact with guests in the restaurant. At The Cowfish Sushi Burger Bar, guests will not only be able to enjoy a surprisingly delicious combination of hamburgers and sushi, but also connect their phones with a smart app in the waiting area to draw their own pictures on the big screen of the waiting area. Peet's Coffee will include a bakery, retail area and hand-pour experience zone, allowing customers to enjoy a unique coffee experience in an unmatched setting. CITYWALK WUBEI CRAFT FOOD AND BEER, a craft beer restaurant combined with more traditional Chinese sights, sounds and tastes, will feature an exciting live music lineup at night. Blazing with neon lights, street signs, posters, and all the storefronts of a bustling local marketplace, Neon Street Hawkers brings the energy, glow, and taste of a Southeast Asian night market to Beijing. In addition, musicians and performers will make a regular appearance on the streets of CityWalk, while seasonal entertainment programs will be hosted in CityWalk's riverfront park.
Highlight 4: In addition to the arrival of many new overseas brands, CityWalk will also feature innovative upgrades of numerous Chinese brands familiar to local consumers. Popular eatery Grandma's Home will be reimagined in an exciting "Grandma's Travel Home" restaurant, which is being introduced to Beijing for the first time, joined by several local well-established brands, which will be announcing their innovative upgrades of new concept stores. With the unmatched location of UBR and innovative presentation of CityWalk, the inclusion of these local brands is set to give a strong boost to their wider market presence, while providing guests with yet another unique experience brought by cultural fusion at UBR.
Universal CITYWALK – The Toothsome Chocolate Emporium & Savory Feast Kitchen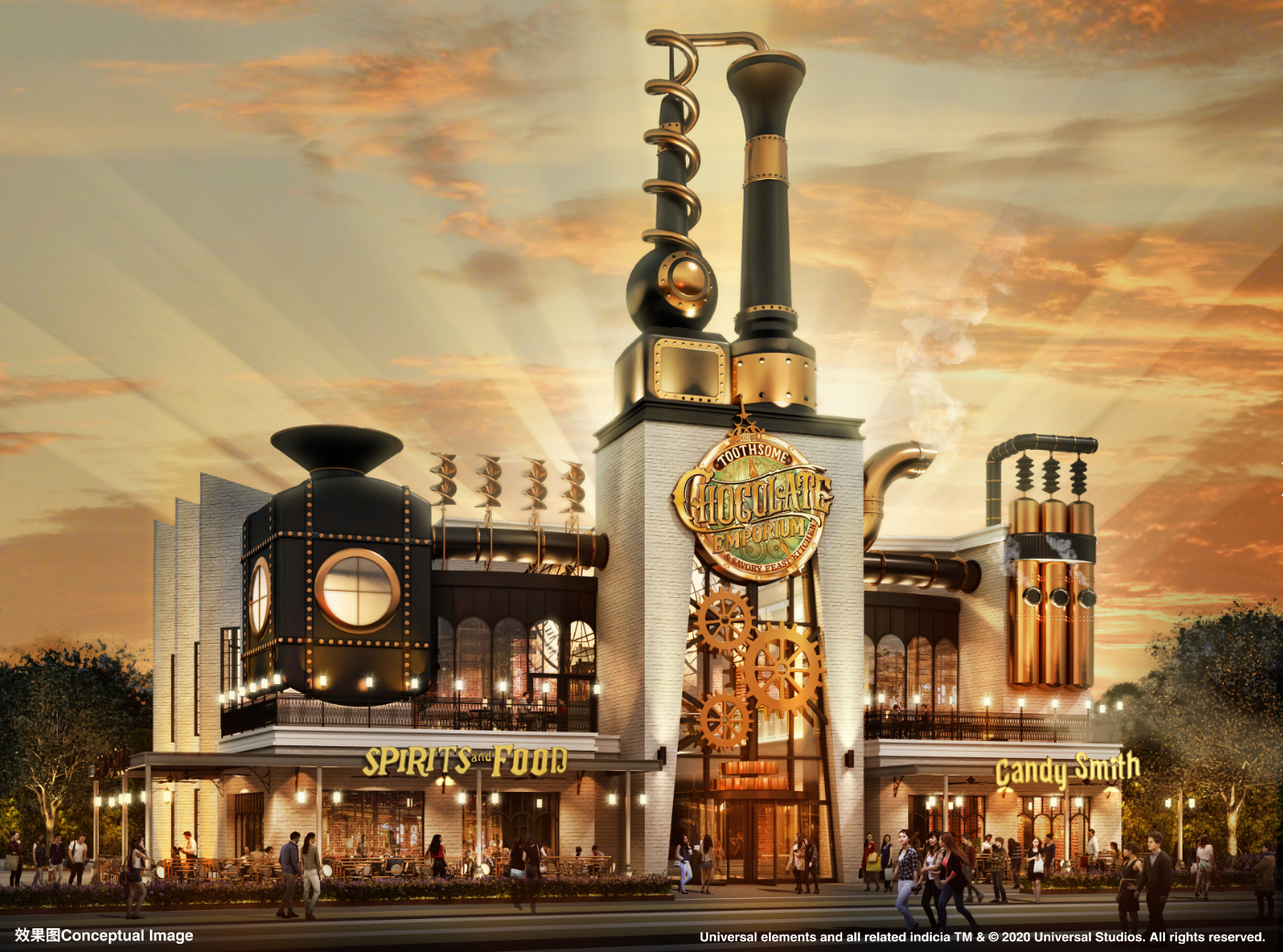 The Cowfish Sushi Burger Bar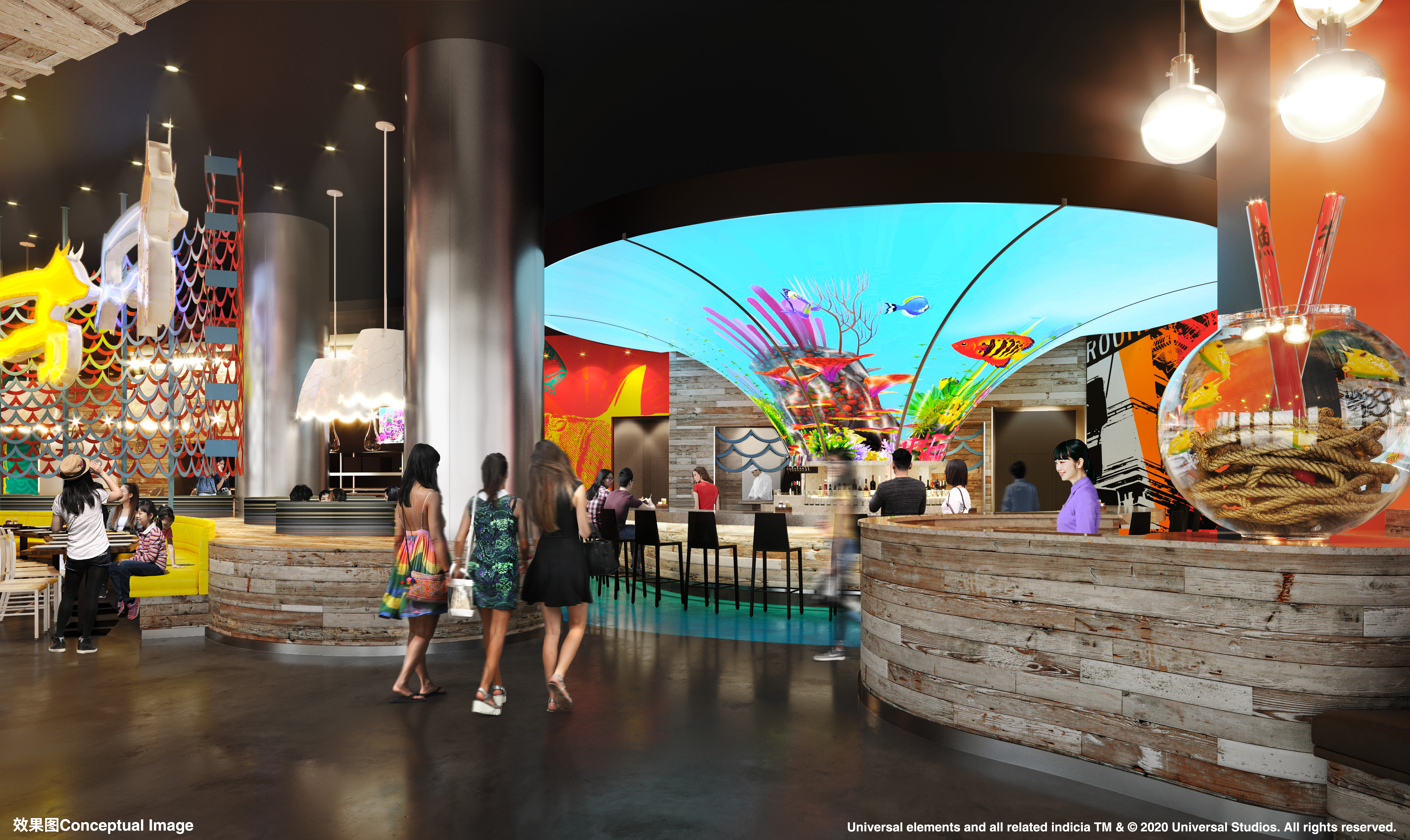 CITYWALK WUBEI CRAFT FOOD AND BEER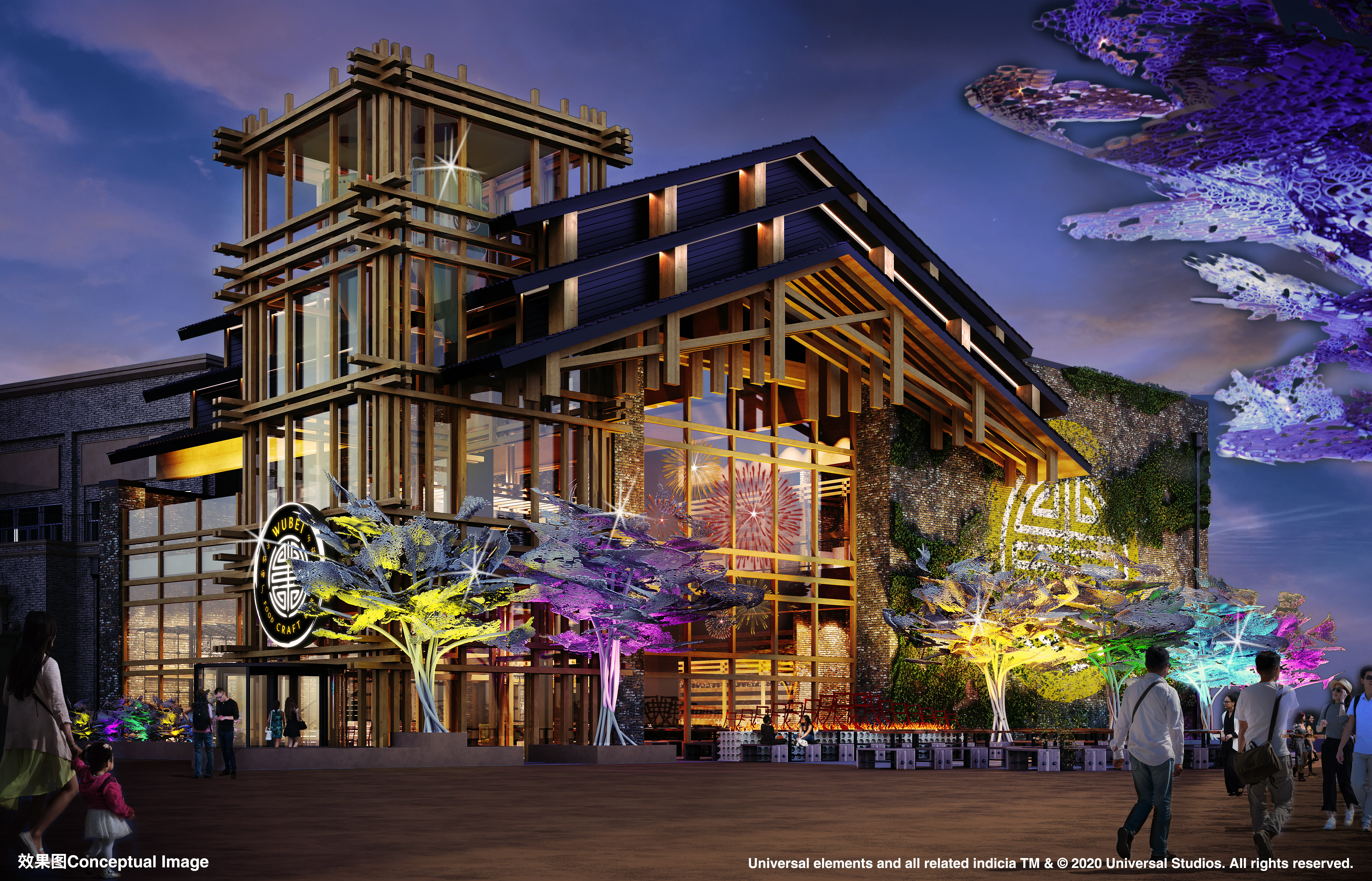 Highlight 5: The overall design concept of CityWalk blends traditional Chinese and cutting-edge modern design, drawing on Chinese culture and Asian aesthetics to present a fantastic destination for excitement and exploration. Featuring exotic elements and modern, bright and celebratory motifs, including several buildings in a Chinese style, CityWalk leads guests into the theme park, with architectural styles and the overall atmosphere gradually evolving along the journey. Red and gold colors run through the entire CityWalk before finally meeting the iconic Globe of Universal Beijing Resort at the plaza in front of the main entrance of the park, forming an image calling to mind two dragons embracing a pearl.
As a new center of Beijing's nightlife, CityWalk will feature long operating hours to ensure the best services are always available for both early-bird tourists and nightlife fans. From a relaxing cocktail to an incredible feast or unforgettable shopping and entertainment, CityWalk will provide a full range of choices for Beijing's nightlife, to ensure that there's something for everyone, from an exciting night out to an evening of family fun.