A Spectacular Winter Holiday Package
[Limited Time Package] Gather your family and friends for a one-stop vacation this winter holiday!
Romantic winter days, how to make the gathering time more special? The Winter Holiday Staycation Package has officially launched to fill your vacation with immersive themed fun at the end of 2023!
Winter Holiday Spectacular Staycation Package Immerses You in Themed Fun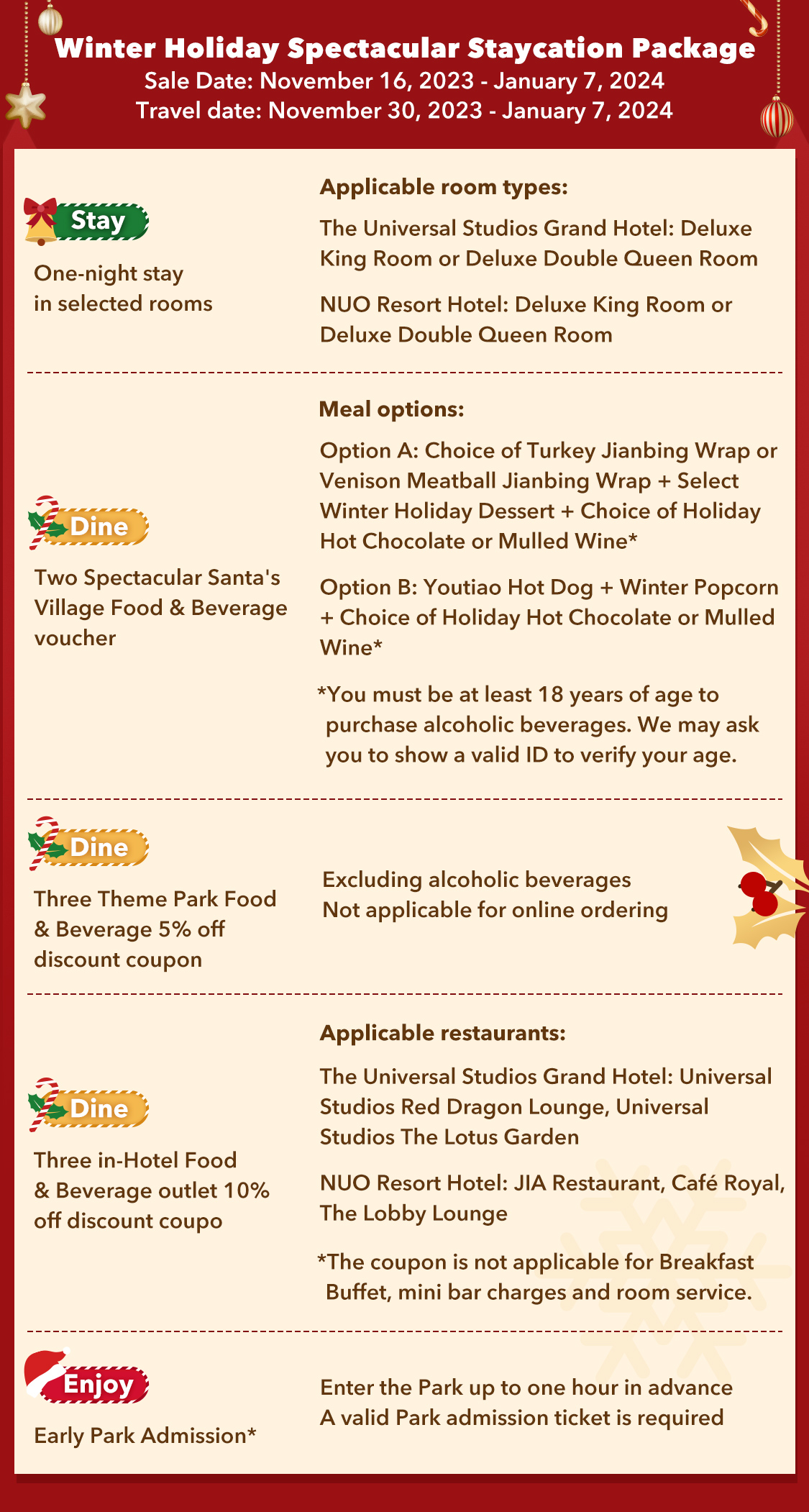 Choose between two resort hotels at your leisure
Stay at The Universal Studios Grand Hotel or NUO Resort Hotel, experience the golden age of Hollywood or the elegant Chinese garden style. Regardless of which hotel you choose, you can enjoy the Early Park Admission*, joining the holiday fun one step ahead of everyone else!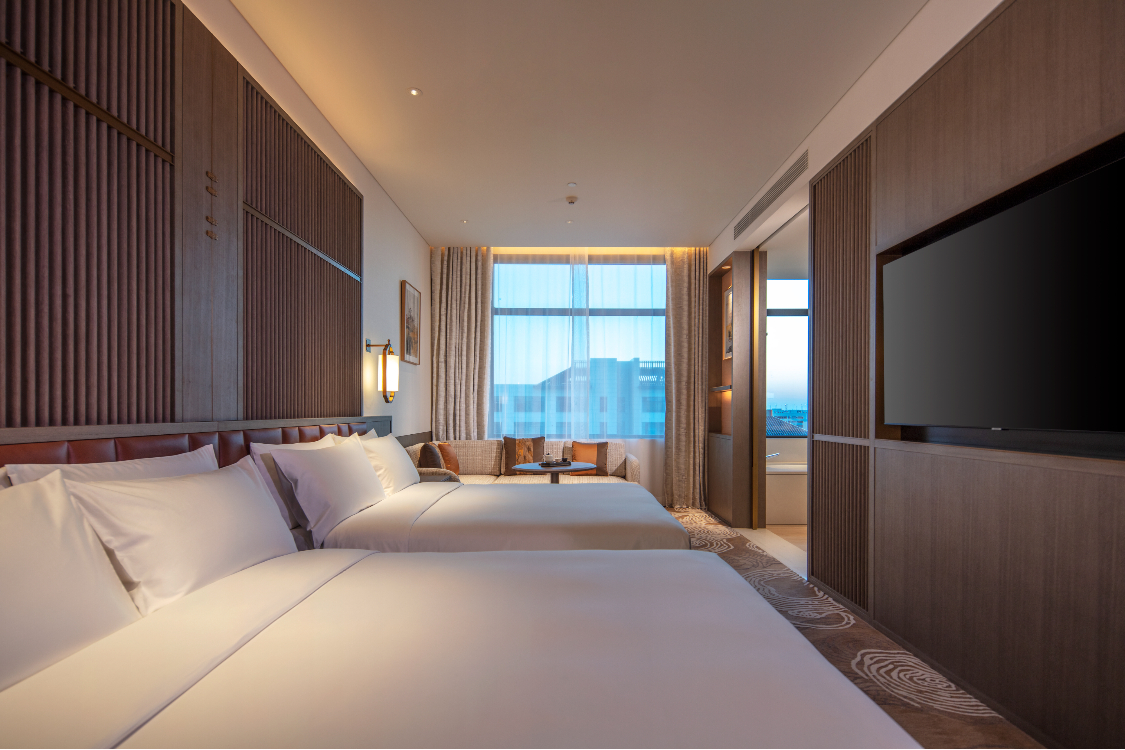 Spectacular Santa's Village meal voucher*2
Embark on a culinary adventure in the lively Spectacular Santa's Village. You can redeem the voucher for a variety of delicacies (choose 1 out of 2 options). Mix and match freely to satisfy your winter taste buds!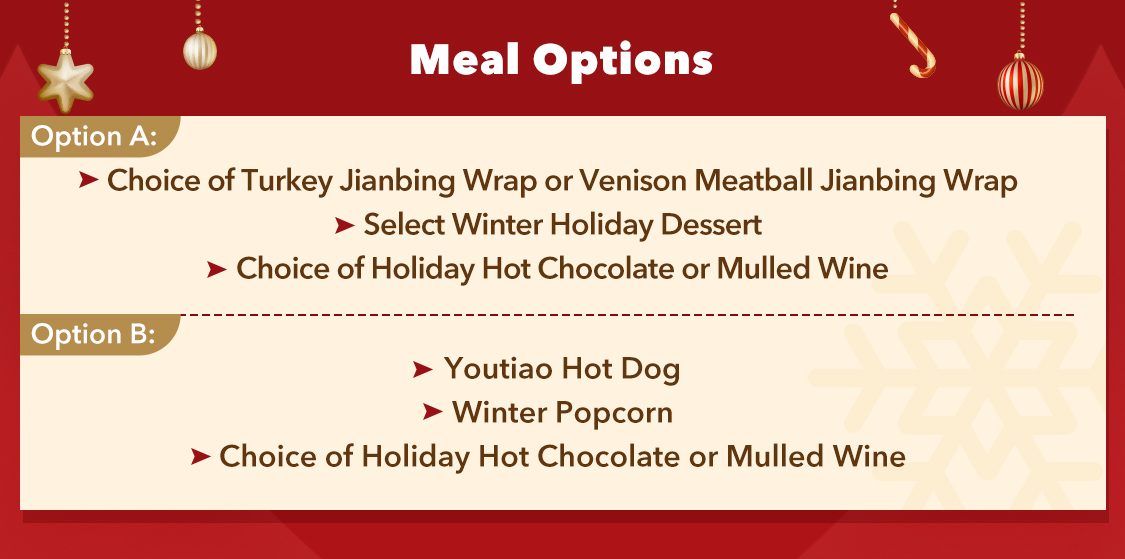 5% discount coupon for restaurants and food carts within the theme park *3
In this time of gathering, remember to slow down your pace, explore and enjoy the culinary delights at the theme park with your loved ones. Let the delicious food warm your palms, and fill up your energy!
*Does not include alcoholic beverages.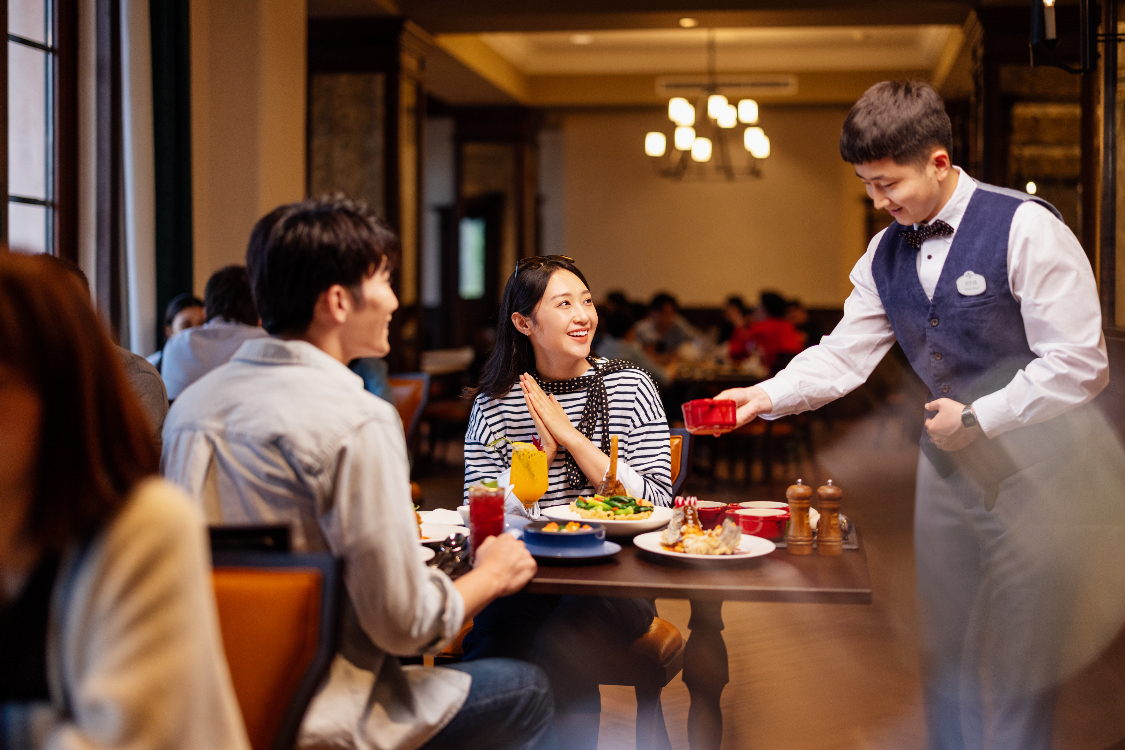 10% discount coupon for hotel food and beverage*3
In the rich festive atmosphere, share a feast at our hotels with your beloved family and friends! Enjoy an array of warm and sumptuous dishes, savor the blissful delight of indulging in culinary pleasures. It's time to treat your taste buds and bid a perfect farewell to 2023~
Applicable restaurants:
The Universal Studios Grand Hotel: Universal Studios Red Dragon Lounge, Universal Studios The Lotus Garden
NUO Resort Hotel: JIA, Café Royal, Lobby Lounge
*Does not include breakfast and room service.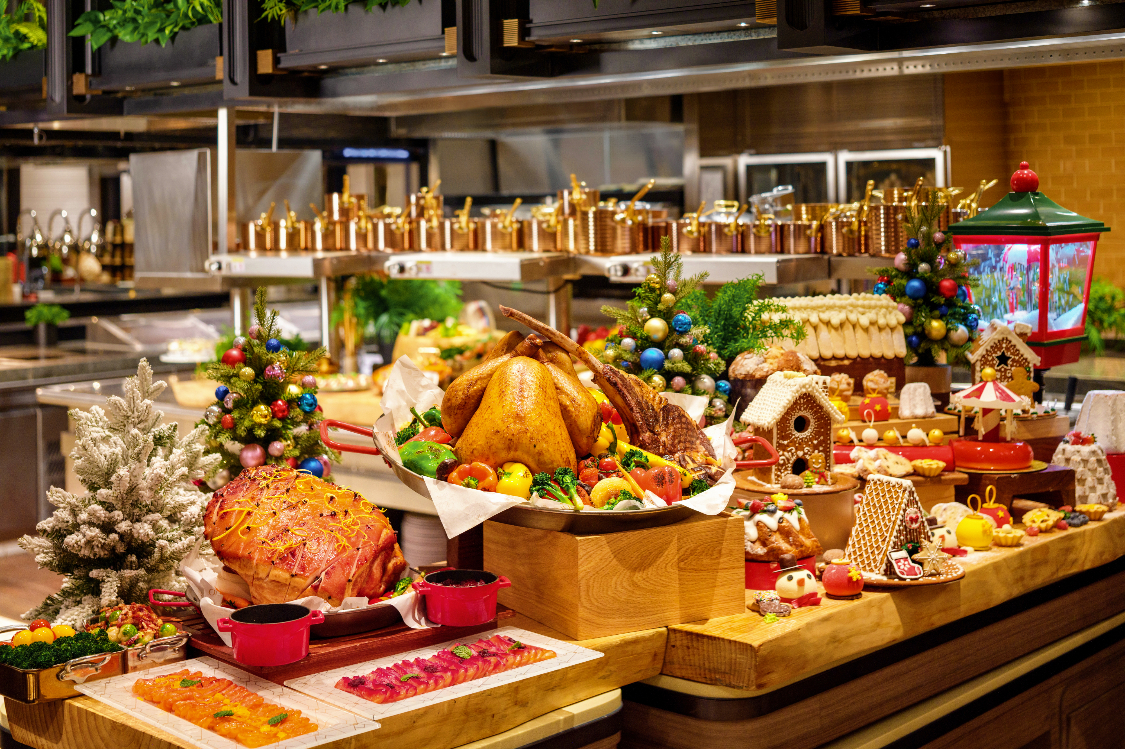 New Hotel Package Option Brings You A Wonderful Winter Experience
In addition to the staycation package, hotel accommodation options also offer new surprises! From now on, when you book a selected room type, you can choose a room with breakfast for four people - ideal for trips with friends or family. Energize your morning with a hearty breakfast, and get a head start on joy with our Early Park Admission*. Happiness is just a step away!
What are you waiting for? Embark on a blockbuster journey this winter holiday with your loved ones, and create your own spectacular memories!
*Early Park Admission to Universal Studios Beijing: Guests who stay at The Universal Studios Grand Hotel or NUO Resort Hotel will enjoy Early Park Admission to selected land(s) or attractions inside Universal Studios Beijing on the day of park visitation up to one hour before the theme park opens to the public. Please enter through the Early Park Admission entrance at the east wing of The Universal Studios Grand Hotel. Valid theme park admission on the same day or next day of hotel check-in is required; Hotel check-in prior to theme park admission is required. Also, the guests are required to present their physical government ID (which must be the same as the ID provided at the time of hotel check-in) and ticket purchase for entitlement verification.